Precision CNC Machining Services China – Custom CNC Parts Manufacturer & Machining Company
Need precision machined components? With over 15 years of experience, Diecasting-mould.com has grown into a reliable expert CNC machining company that offers quick-turn precision CNC machining services, involves CNC milling, CNC turning and CNC drilling processes. Multiple CNC machines including CNC machining center, 5-axis milling machines, CNC lathes, drills, and advanced measuring equipment ensure our in-house capacity to deliver your CNC machining parts with the most competitive prices, short lead time and on-time shipping. At Junying, both rapid prototyping and low/medium/high-volume production are available based on customers' requirements. Our online CNC machining services also support one stop service from product design to finishing services, to help clients who just have a rough concept about the end-use CNC products. Fast send your CAD drawing to our email for requesting a free quote, we'll analyze your file and give you a prompt reply.
Why Choose Our CNC Machining Services
A wide selection of engineering-grade plastic and metal materials in stock
Specialist in CNC parts fabrication with accurate dimension, tight tolerance and high precision
Online CNC design service and CAD file review to accelerate product development and save cost
Quick reply and feedback to deal with any problems you have with the product drawing
ISO9001:2015 certification and strict quality control system throughout each stage
Average 7 days turnaround time and 99.85% on time delivery
Applicable in broad industries from aerospace, automotive, medical to military, food, electronics, etc.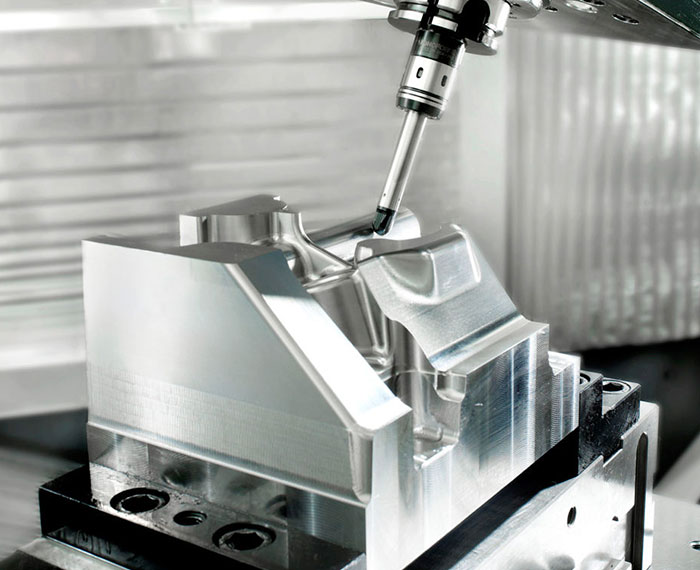 CNC Machining Services Capabilities
Work with our CNC services, a variety of production techniques will be employed to realize your expectations on the final CNC machining parts.
| | |
| --- | --- |
| CNC Milling Services | a computer-controlled subtractive manufacturing process through which the materials are rapidly removed from the metal or plastic blocks using a rotary cutting tool, to create desired milling parts. |
| CNC Turning Services | a computerized subtractive machining process that cuts the metal or plastic block fixed on the machine using turning cutters or live tooling to produce turning parts with cylindrical features. |
| CNC Drilling Services | a cutting process controlled by computers, uses a drill bit to cut a hole of circular cross-section in solid materials. |
CNC Machining Materials Capabilities
We stock more than 30 types of high-quality metal and plastic materials for machining CNC components used in various industries.
| | |
| --- | --- |
| Steel | 4140, 4130, A36, 1018, etc. |
| Stainless steel | 303, 304, 410, 17-4, 2205 Duplex, 440C, 420, 316, 904L, etc. |
| Aluminum | 2024, 5083, 6061, 6063, 7050, 7075, etc. |
| Copper alloy | brass 360, 101 copper, 110 copper, 932 bronze, etc. |
| Plastic | POM (Delrin), ABS (Acrylonitrile Butadiene Styrene), HDPE, Nylon, PLA, PC (Polycarbonate), PEEK (Polyether Ether Ketone), PP (Polypropylene), PTFE (Polytetrafluoroethylene), etc. |
Metal Surface Finishing Services for CNC Parts
For the best surface quality for your CNC machining and die casting parts, a series of surface treatment services are provided for selection. More than the following surface finishes are available if you have other needs.
| | |
| --- | --- |
| Polishing | a finishing process through which to smooth the surface of an object using an abrasive or a work wheel |
| Sand Blasting | also known as sandblasting or abrasive blasting, is a process of applying high pressure to push solid particles across the object surface at high speed to alter the surface roughness |
| Color Electrophoresis | applying different colors on metal materials and products through electrophoresis techniques |
| Pad Printing | special printing methods to transfer the color and image that you wanted on surfaces |
| Rubber Casting | provide waterproofing for CNC machined parts and die castings in varying applications, available in different colors |
| Silk Screen Printing | involves printing ink through stencils, applying for hardware products |
| Anodizing | forming a thin layer of aluminum oxide on the exterior of CNC machined parts to increase the thickness and corrosion resistance |
| Plating | including chrome plating, nickel plating and more, to change the properties of the metal surface or build up thickness for undersized parts. |
| Passivation | use a light coat of protective material to create a shell for enhancing the corrosion resistance or reducing the chemical reactivity. |
What is CNC Machining?
Computer Numerical Control machining, also known as CNC machining, is a subtractive manufacturing process that employs computer controlled machine tools to remove layers of materials from the stock and create the custom part through following a programmed instruction. A range of complex machinery from lathes and mills to drills and routers can be controlled to execute specific operations. So, the common types of CNC machining operations including milling, turning and drilling. CNC machining services can process metals, plastics, wood, glass, foam and composites according to the applications and machines. This process enables efficient production of high precision and high accuracy with the help of automation, also realizes cost-effectiveness in medium-volume production run.